Creating Assignments
1. To begin the process of creating an assignment submission folder, first, from your course navbar, click Tools, and select Assignments.
---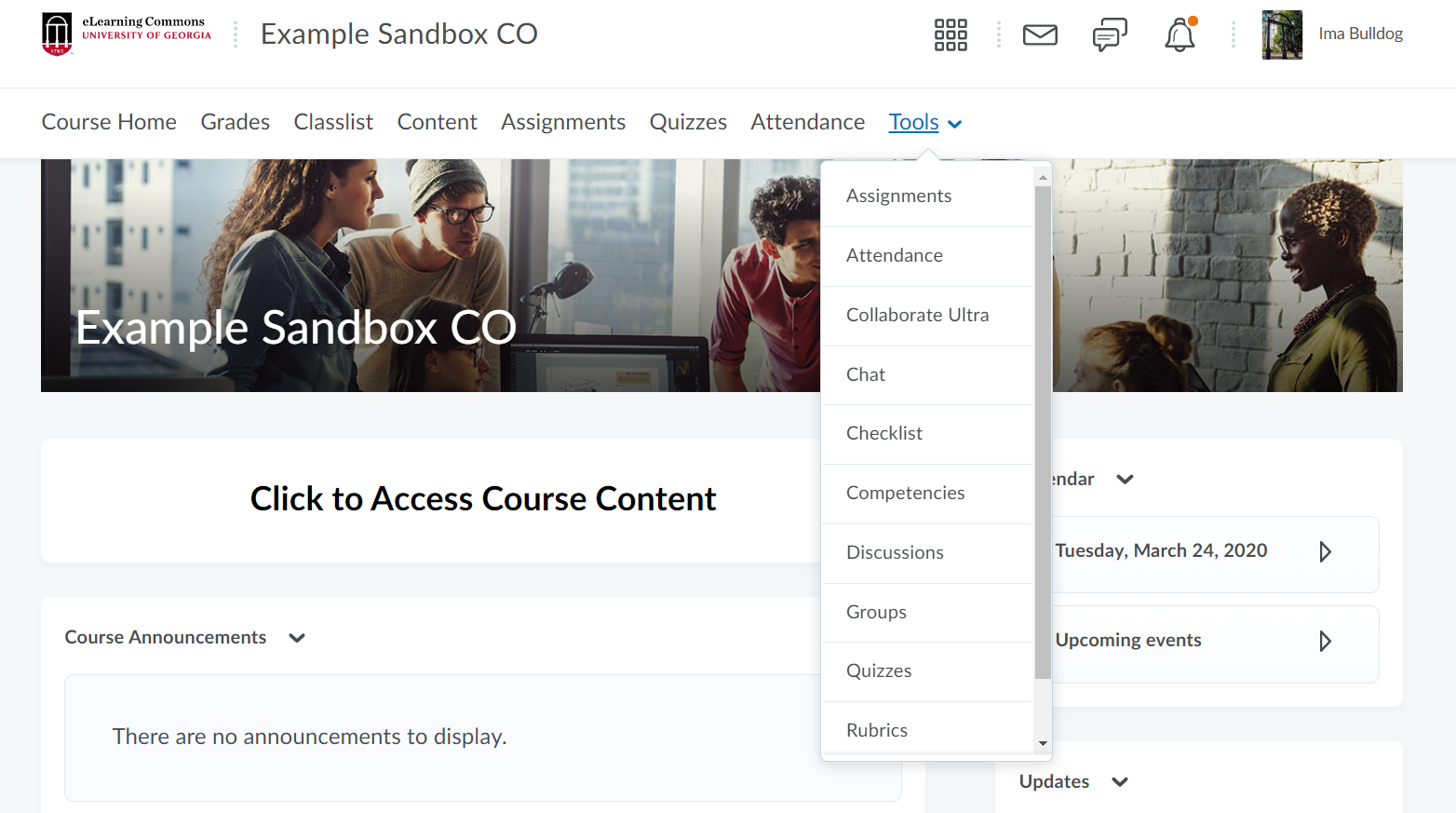 ---
2. In the Assignments page, click New Assignment.
---

---
3. Give your folder a name and select the appropriate folder type, individual or group, for the assignment.
Individual assignments should be used in case of assignments that instructors expect every student to turn in.
Group assignments are more specialized than individual folder. These can be put to variety of uses like group assignments, individual-specific assignments, special case assignments, etc. within the course. An instructor will be able to select this option only if they have created groups within the classlist. To see more information about creating groups, visit

this link.
4. Add instructions if desired. You may also attach downloadable files and record audio.
---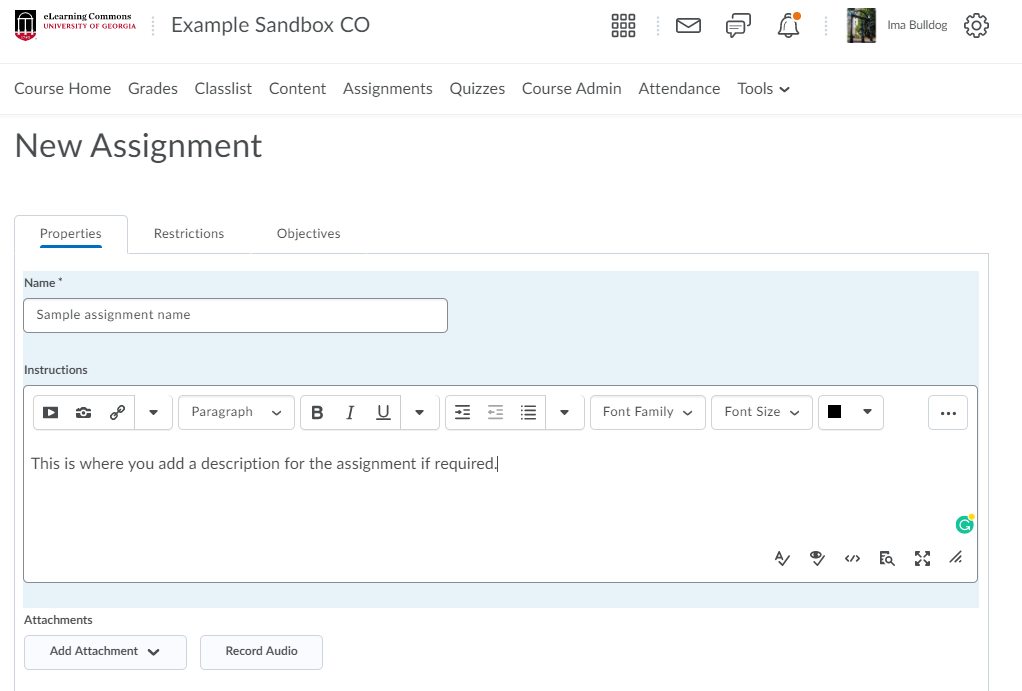 ---
5. Choose the desired submission options. If the options are hidden, click the triangle next to Hide Submission Options to unhide them. To be notified when submissions are made, enter the desired email address in the Notification email field.
---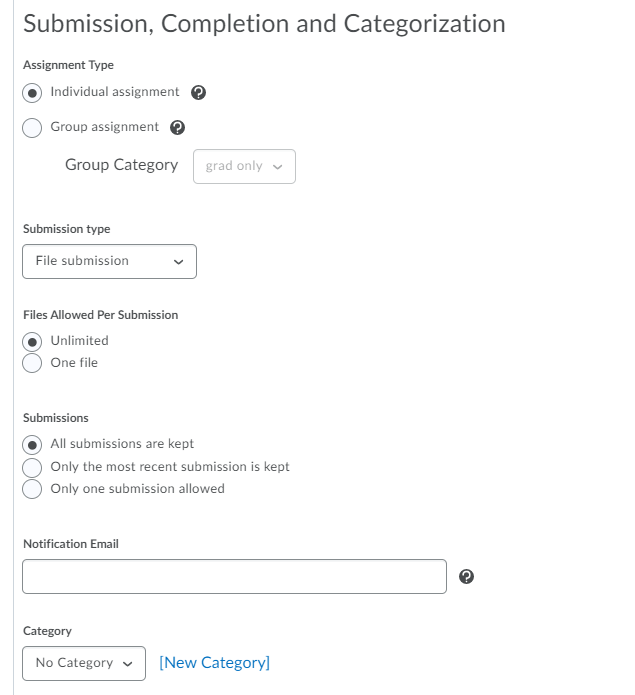 ---
6. Select Grading Options.
If you would like for the assignment to be graded, choose the appropriate Grade Item

from the drop-down menu.
If you have not created a grade item in the gradebook for the assignment, you may create a new one "on the fly" by clicking

New Grade Item.
If you have set up Grade Categories in your Gradebook, select the appropriate Category

for the assignment from the dropdown menu.
The number of points the assignment is worth goes into the Score Out Of

field. For existing grade items, it should be the same value as the grade item's "maximum points."
Add a

r

ubric if desired. Click

Add Rubric

if you have created one to be used with this assignment; click

Create Rubric in New Window

to create create one "on the fly." More information can be found in our documentation on

Rubrics.
---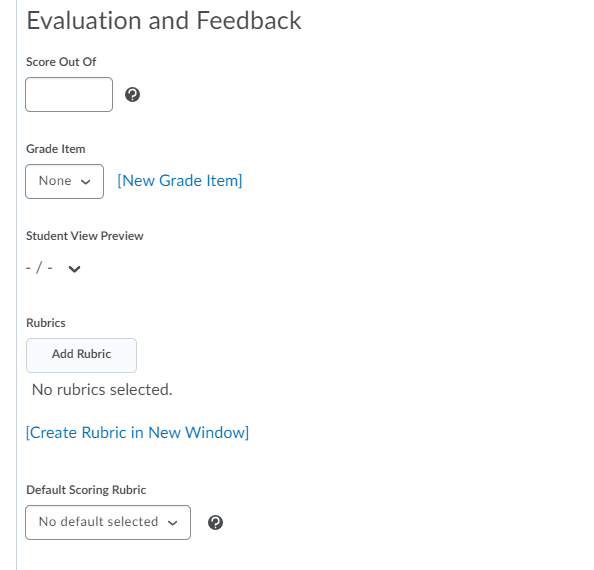 ---
7. To set restrictions on the folder, first scroll up to the top of the page and select the Restrictions tab.
Set Availability (Due Date, Start Date, and End Date), Release Conditions and any Special Access to the folder.
---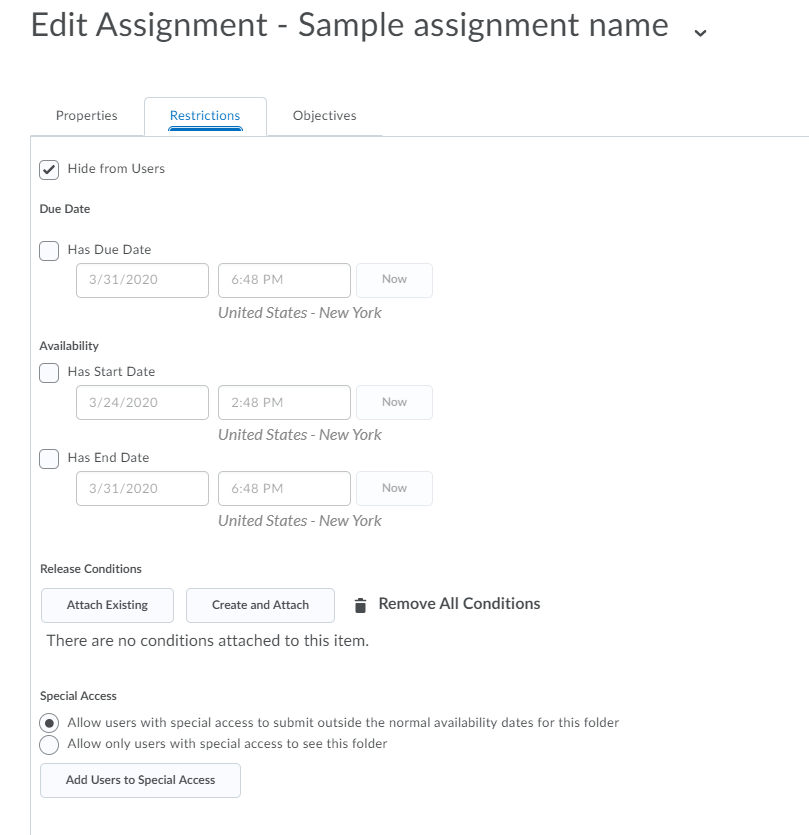 ---
8. Click Save and Close if you are finished with Assignments, or Save and New to set up another folder.