Online Proctoring
Learn about getting started with Respondus Monitor and the following:
What is Respondus Monitor
Respondus Monitor is an added feature to Respondus LockDown Browser, which is a tool that restricts student access to other programs or views outside of the test they are taking. Both Respondus Monitor and Respondus LockDown Browser work within eLC and with ALEKS. If you are not already familiar with Respondus LockDown Browser, visit our eLC Help Page on Respondus LockDown Browser for more information before considering this tool.
When enabled, Respondus Monitor requires students to use a webcam and microphone with LockDown Browser. After the exam is complete, you as an instructor can review details of the assessment, reports generated by Respondus, and recordings of students having taken the exam.
If you have questions about using Respondus Monitor in your course, contact your eLC Collaborative Admin or the EITS Helpdesk.
Preparing a Quiz in eLC with

Respondus

Monitor
Respondus Monitor can be used on any quiz that you have or want to create in eLC, with a few limitations and restrictions we have listed in the Considerations for Instructors Using Respondus Monitor section at the end of this guide.
Respondus Monitor can be used on any quiz that you have or want to create in eLC, with a few limitations and restrictions (see below).
1. Once you have your quiz created, navigate to the main quiz area and select the "LockDown Browser" tab in the top right section.
---

---
2. Once the page loads, select the drop down menu next to the quiz and select "Settings". (Note also the About Respondus, Introductory Video, and Rapid Rollout Guides provided by Respondus. These resources may also be helpful in understanding the tool.)
---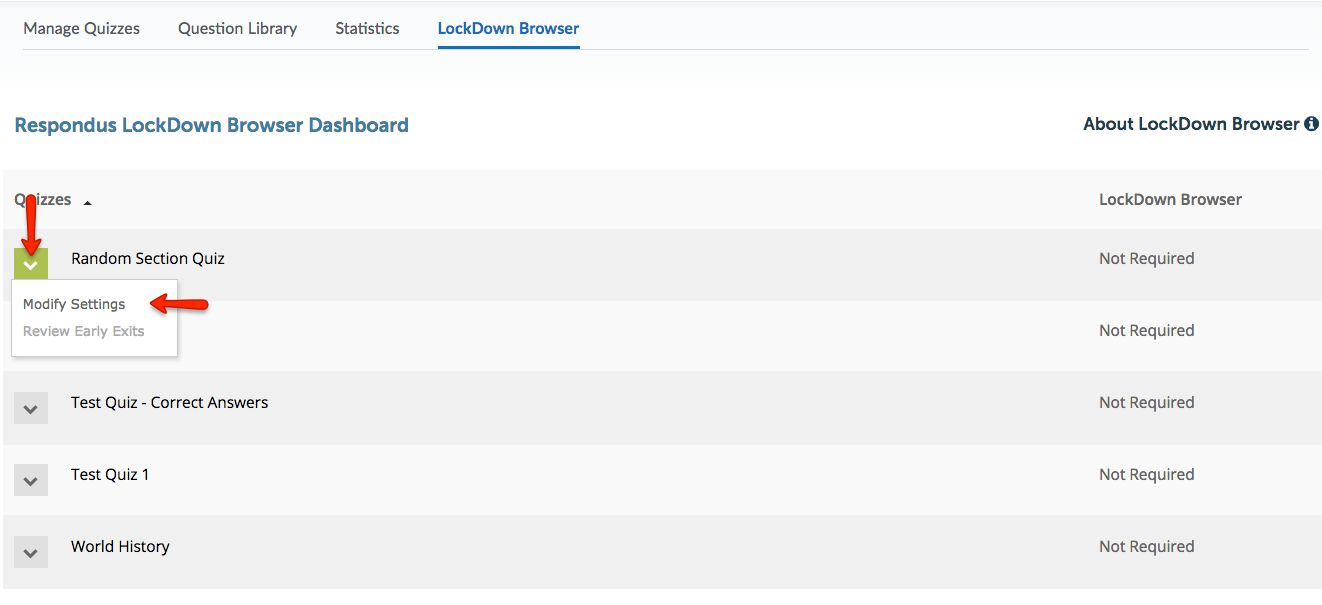 ---
3. Select the option to "Require Respondus LockDown Browser for this exam". Follow the steps to enable Respondus LockDown Browser for the quiz.
4. Select the option to "Require Respondus Monitor". Be sure to review the pop up message about Respondus Monitor. This will open up options for "Startup Sequence" and "Facial Detection Options".
---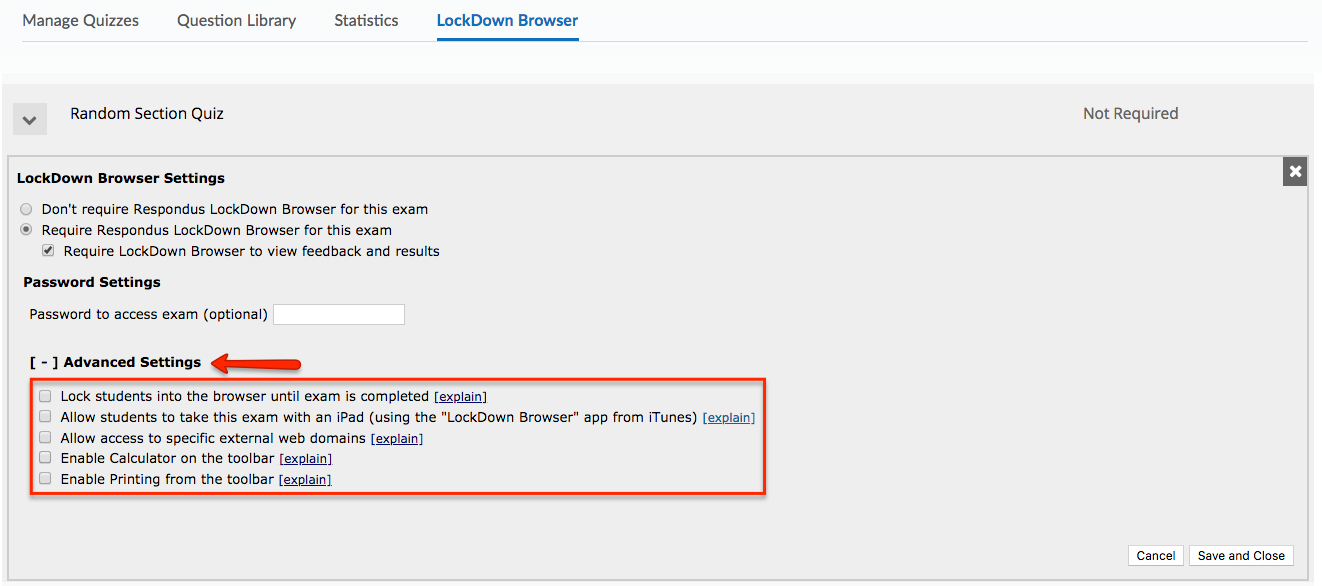 ---
5. Once you've carefully reviewed these settings, select "Save and Close". These settings can be changed anytime prior to students taking your exam.
6. After selecting "Save and Close" you will be navigate back to the Respondus Monitor Dashboard and both LockDown Browser and Monitor have been enabled for this exam.
Considerations for Instructors using Respondus Monitor
Eliminating Test Anxiety for Your Students:
As with any new process introduced into learning and especially assessment of learning, make sure you are transparent with your students about your use of this tool, why you're using it, and give them resources about the tool and how it works. Remember they are having to learn a new tool, and will be asked to download a software and need to change permissions, close programs, and complete other task to start the quiz. Give them a chance to try this out before the "real" quiz. One of the best ways to empower them is to give at least one "practice quiz" with Respondus Monitor enabled. This will allow them to make sure their device is ready to take the quiz, see what the set up is like, and work out any issues prior to taking the quiz. Additional resources for students using Respondus LockDown Browser and Respondus Monitor can be found in the LockDown Browser and Respondus Monitor Quick Start Student Guide (PDF).
Viewing the Quiz as an Instructor:
You can still preview your quiz as an instructor by either using the Preview or "View as Student" function in eLC. However, this will not allow you to test the Respondus LockDown Browser and Respondus Monitor experience. In order to see how Respondus Monitor would work from the student perspective, consider enrolling a colleague in your course as a student or enroll your demo student account to take the exam, generate a Monitor report, and try out other functionality. Find resources here for Adding Users to My Class and Request a Demo Student Account
Quiz Question Types:
Remember that Respondus LockDown Browser and Respondus Monitor remove access to all other programs and tools while the student is taking a quiz. Respondus Monitor removes some access to the built in equation editor in eLC. For questions with the HTML editor enabled, access is still provided but students cannot use the "Equation Editor" or "Insert Stuff" option. This means that Respondus Monitor cannot be used for assessments that would require this type of question format (video/image insertion or math that cannot be demonstrated in standard numerical text). Students would also be prevented from uploading files or images into a quiz or using another program as they engage in the quiz. Quiz questions in multiple choice, true/false, short answer, and written response are un-impacted.
Is This the Right Tool for Assessing Your Students

?
Quizzes are just one of the many assessment tools available to you. Think about what type of knowledge you are trying to measure, and whether a test is your best way to do that.
Use of Respondus Monitor requires that students have a working webcam, microphone, and broadband internet. Setting up a non-graded practice exam is the best way to determine whether a student's device will work with Respondus Monitor.
For individual students who have hardware and connectivity barriers, instructors can prepare alternative testing options. For example, students might instead engage in proctoring with the instructor via a synchronous Zoom testing session. While Respondus cannot be used on mobile devices, students can connect to Zoom from their smartphone.
1. To enable this option, instructors should turn off both Respondus LockDown Browser and Respondus Monitor for these students' assessments by creating Special Access in Quizzes.
2. Briefly, click on the dropdown menu to the right of the quiz for which you need to provide special access, and choose Edit.
3. Under Edit, select the Restrictions tab, scroll to the Special Access section, and click Add Users to Special Access.
4. Add the desired students to allow special access, and check the box for Lockdown Browser to select "Not required to take this quiz":
---

---
Students might instead take the test in a large, socially distanced space under supervision. If this lab does not have webcams on the computers, a password can be created to bypass the Respondus Monitor requirement at the time of testing, while maintaining the LockDown Browser requirement. This password may be provided to and entered by a proctor, or the password may be provided directly to students to enter themselves. To use this option, follow these steps:
1. Navigate to the Respondus Monitor Settings
2. Under the Respondus Monitor Settings, select the option for "Either Respondus Monitor or a proctored lab can be used to take this exam".
3. Type in a password of your choosing in the appropriate field.
---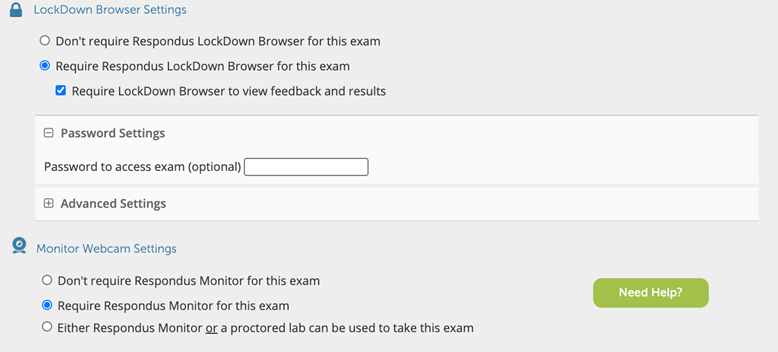 ---
4. Be sure to "Save and Close" before navigating away from this window. You can access the password anytime by returning to this Respondus Monitor Dashboard. The password can differ from quiz to quiz.
Note About Student Access via Passwords: If you would like to provide this password to students taking the exam remotely, any student who enters the password will be able to access the exam with without Respondus Monitor enabled.
Students may also be able to use on campus resources to enable their engagement with Respondus Monitor. There are a small number of laptops with webcams available through the UGA Library Tech Loans at the Miller Learning Center. For Fall 2020, laptops are first come, first served and cannot be reserved in advance. See https://mlc.uga.edu/technology/lending

for more information.