eLC Update Information
eLC is updated on the fourth Thursday of every month. These updates can range from small fixes to major feature changes. Our goal with this page is to provide you with information about recent and upcoming changes, along with links to help materials for new features.
Questions? Follow this link to identify your best support option.
September Updates
Assignments (update): This change builds on the update from June (details below) and allows instructors to choose where to copy their assignments, within a specific module, when choosing the Copy to Other Courses drop-down option. Please note: When copying assignments with Turnitin enabled to a new course, you will have to re-enable it in the new course.
Classlist (update): Instructors can now use the Classlist tool to view groups and sections of their students.
Google File Picker (update): Users can now search through all their folders and multi-select files. When multiple files are selected, they are added as individual files.
Import/Export/Copy Components (update): eLC now handles requests for copying Groups (via the Copy Course Components process) differently: it will happen separately from other copying processes, and you can see a progress indicator ("Group creation in progress…") when you access Group tools in your course. This fixes a bug that previously led to unsuccessful copying of course components in eLC.
Quizzes (update): Instructors can now create quizzes without any time limits, and this is the new default option.
Release Conditions (update): Instructors can now select the Date of enrollment in current org unit as a condition type, allowing instructors to choose the number of days since the student has been enrolled in the eLC course. That number can be based on either the first or the last enrollment date (useful for cases where students may have been dropped from the course then added again).

SCORM (update): The SCORM LTI wrapper has been removed from the object. The Review/Retake option for all new SCORM objects defaults to Do not add review/retake. SCORM has a grades passback method which is labeled as Content Service grade.
August Updates
Assignments

Annotations (update): There are now undo/redo buttons for Annotations on PDFs.

Evaluate Assignment (update): The default search filter setting for Submissions in assignments is now Show everyone (for individual assignments) and Show all groups (for group assignments). Previously, the search filter defaulted to Users with submissions and Submitted groups.
Brightspace Editor (update): There is a new Insert code option in the Other Insert Options menu from the Editor toolbar. The Insert Code option enables coding snippets to be added to show the proper syntax of your code. The code will appear in a box with line numbers, for ease of reference and to highlight the code for readers.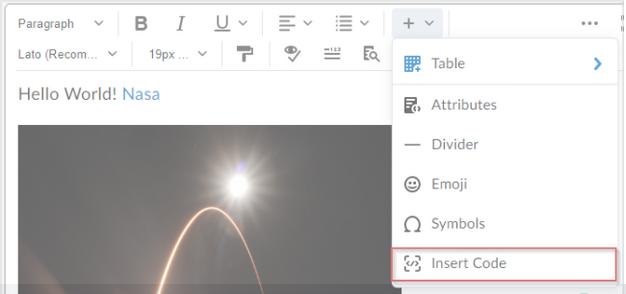 Brightspace Pulse (update): Users will need to re-authenticate with the Brightspace Pulse app after this update so that the backend switch to OAuth2 can be completed.
eLC (update): Status indicators in the My Courses Widget and in Bulk Course Import now have the first letter of each word capitalized.

Google File Picker (update): Users can access files from both personal and Workspace Google accounts from the same google file picker. Students are able to add a file to assignments and add attachments to discussions. Instructions are able to add attachments and files from Google drive to discussions, announcements, quizzes, and content.
Intelligent Agents (update): Intelligent agents can now be configured using user roles in a class as the criteria.

Quizzes (update): In Manage Quizzes instructors can Restore deleted quizzes under the More Actions drop-down menu. The Disable Right Click option in Quizzes is no longer available.

Turnitin Integration

Layout and feature names (update): The Turnitin options layout and feature names are changed with this release. GradeMark is now Online Grading and Originality Check is now Similarity Report.

Restrict files (update): Instructors can now restrict file types when creating as assignment with Turnitin. To restrict the file types, navigate the Submission & Completion pane on the right side and choose Compatible with Turnitin under the Allowable File Extensions section. Turnitin supported file types: HTM; HTML; Doc; Docx; HWP; ODT; RTF; WPD; TXT; PS; PDF; pptx; ppt; ppsx; pps.
For information about prior updates, please see Brightspace release notes and search for "Brightspace Platform Month year" (e.g., Brightspace Platform March 2018). Please note that not every article in these search results will be applicable to eLC specifically, but it will give you a sense of changes that have been made over time. If you have questions about any of these changes, please feel free to reach out to our institutional administrators at the CTL or EITS.