FAQs For Students
You can start by viewing this eLC eLC Environment Orientation Video
eLearning Commons, powered by D2L, is used by many UGA faculty. If you need assistance with eLC, you have a number of options to get help using the system.
Below is a list of Frequently Asked Questions.
To learn more about eLC's Email function, please visit the Email Help page.
---

---
Students who receive an "Error: Not Authorized" message when attempting to access their eLC email should first check to see if they have a quiz in progress. Click on the envelope at the top of the screen. If you receive a message that indicates you have a quiz to finish, return to the quiz and make sure it was submitted after it was finished. Emails can not be sent in eLC during a quiz. If the quiz is closed and you are not able to access it, please contact your instructor. If you did not take a quiz, notify EITS or the D2L help center through the contact information at the top of this page.
---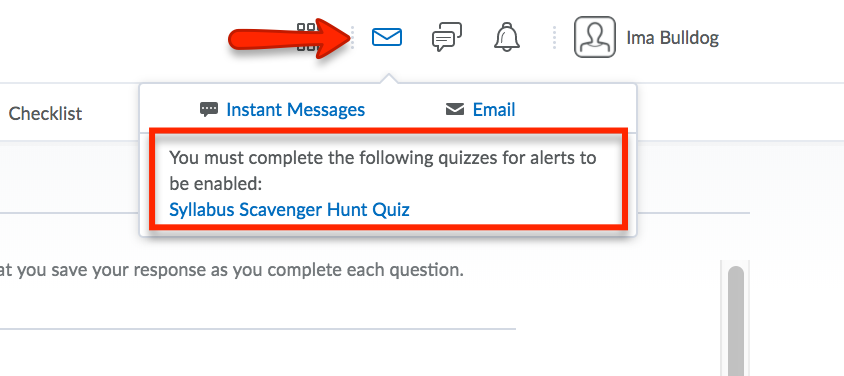 ---
Students can receive emails and/or text messages when items are added to eLC. Common notifications include when instructors make announcements on the course home-page, when due dates for assignments are approaching, and when discussions are posted on the discussion board. To manage notifications, click on your name on the right-hand corner of the main eLC page and then click on Notifications.
---

---
Verify the email address you want used for notifications and add your phone number to receive text messages (text-rates apply).
---

---
Choose the items for which you wish to be notified and how you wish to receive the notification. Choose Save when you are finished.
---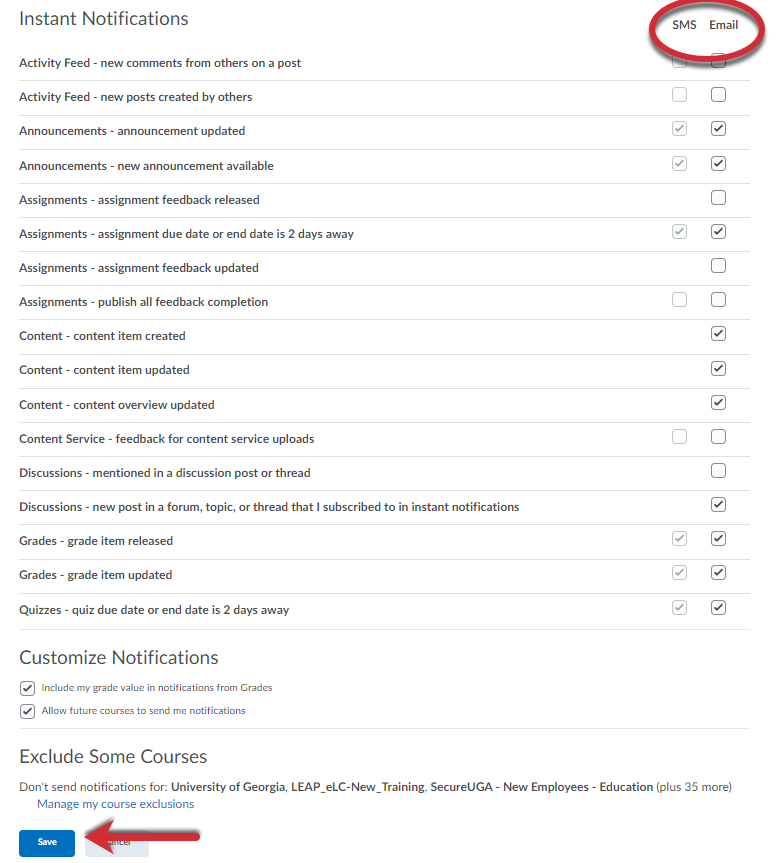 ---
Courses in which you are enrolled should appear on your eLC Homepage. These courses are "pinned" in your course listing so that they show up on the Homepage and in your Menu of Courses. To view your list of current and recent courses, click the Waffle Icon on the Menu located at the top of the screen. Your pinned courses will appear first with recent courses appearing after. If you do not see your course, click on View All Courses underneath the list of "My Courses." A search bar will be then be available.
---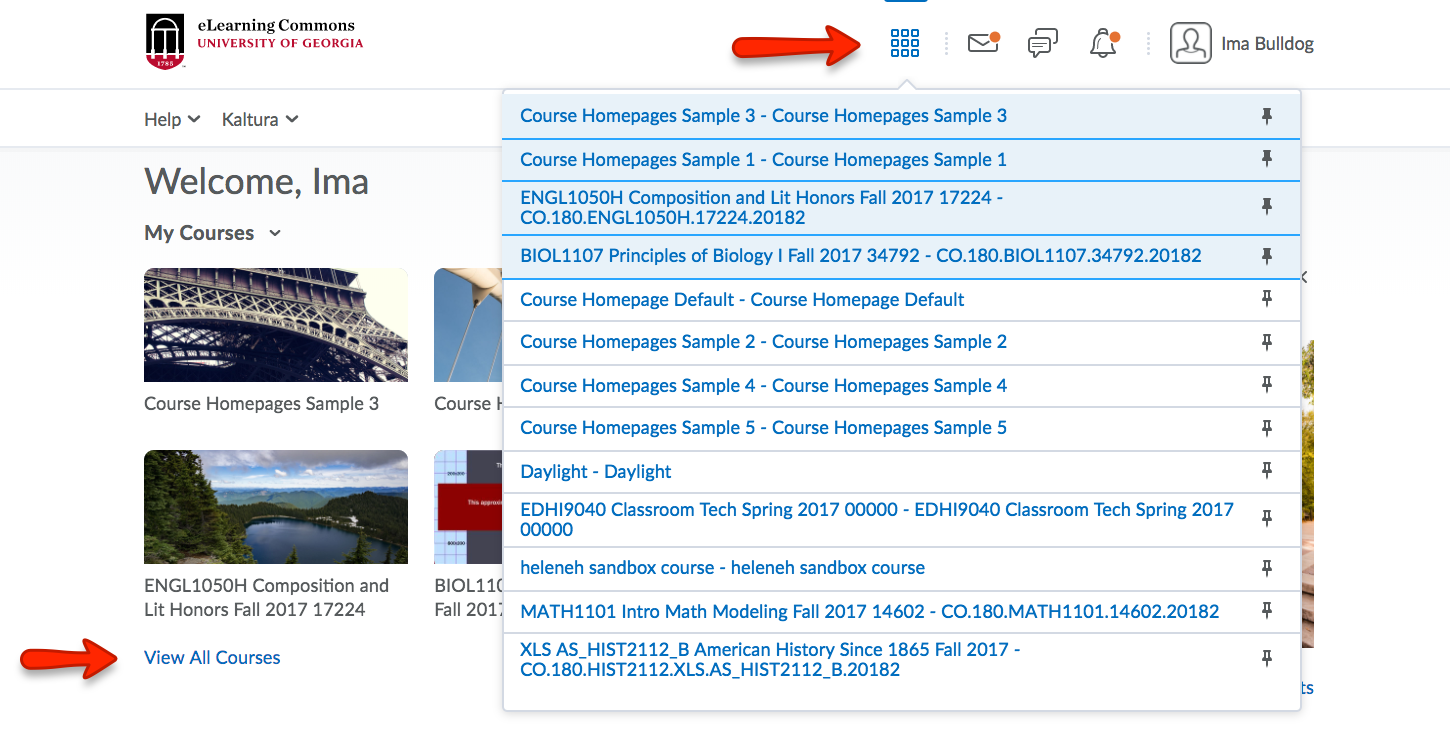 ---
Note: if you would like to have a course appear on your Homepage, click on the Push Pin icon.
---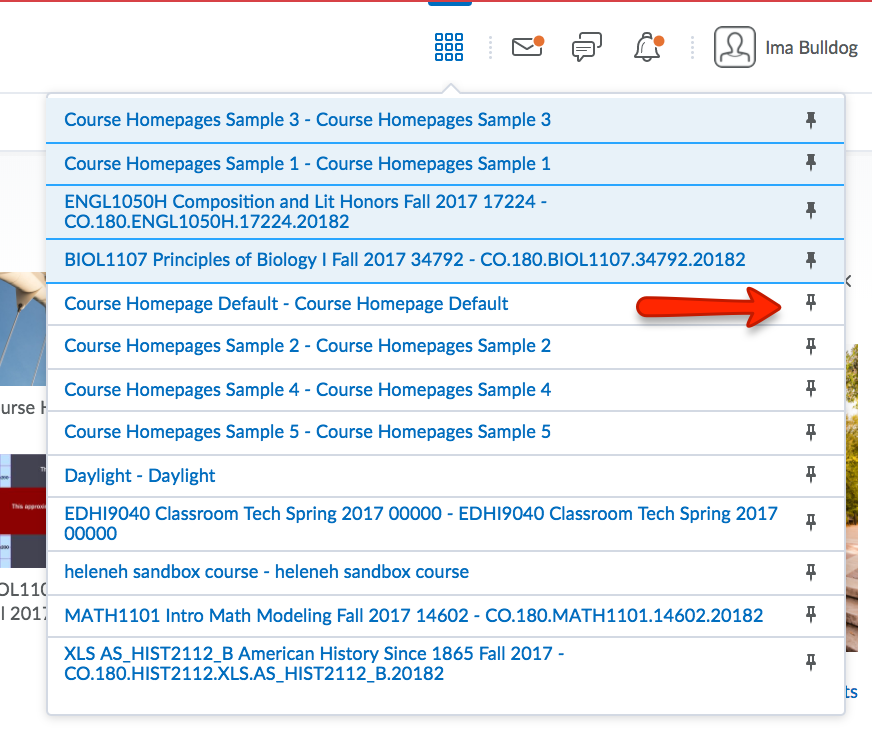 ---
Students may submit Assignments by adding text or uploading a document to the Assignment Dropbox; and by adding documents, videos, and text to a Discussion Board.
To learn more about the

Assignments, visit this page
To learn more about

Discussions, visit this page
Students may upload Videos to Discussion Boards and to Assignments. They can also provide links to Videos that are located on an external video hosting site such as Youtube. Visit the Video Tutorials page for more assistance.