Blackboard Collaborate Ultra
Service Update: Blackboard has set a limit of 25 call-ins per each Collaborate session. Users may receive a busy signal when trying to join a session via phone once this limit has been reached or there are no call-in lines available for the Collaborate North American region. Blackboard recommends that you join Collaborate sessions from a computer or mobile device if possible
This page contains instructions to access and use Blackboard Collaborate Ultra within eLC. For a list of all available features, visit https://en-us.help.blackboard.com/Collaborate/Ultra/Administrator/030_Changes
Accessing Collaborate Ultra in eLC
Navigate to your course in eLC.
If you are using the course default navigation bar, you will see a link for Collaborate Ultra in the Tools dropdown menu.

If you have customized your course navigation bar, you will need to add the link to Collaborate Ultra to your course navigation.
1. Click Edit Course, and click Navigation and Themes.
2. To customize any of the navigation bars, you must first make a copy. Click the drop-down arrow next to the name of the navigation bar you want to copy, and click Copy. Then, click on the copy you created to customize.
3. You can add Collaborate Ultra directly to the menu or to the tools dropdown. To add Collaborate Ultra to the tools dropdown, click the Tools dropdown, and then click "Edit Group Properties"
4. Click "Add Existing Link" and locate the Collaborate Ultra link. Click Add.
5. Click Save, and then Save and Close to save your changes.
Once you can access the link in your course navigation, click the Collaborate Ultra link to open Collaborate Ultra.
Course Room
The course room is an open session specifically for your course. Click "Join room" to join the session any time.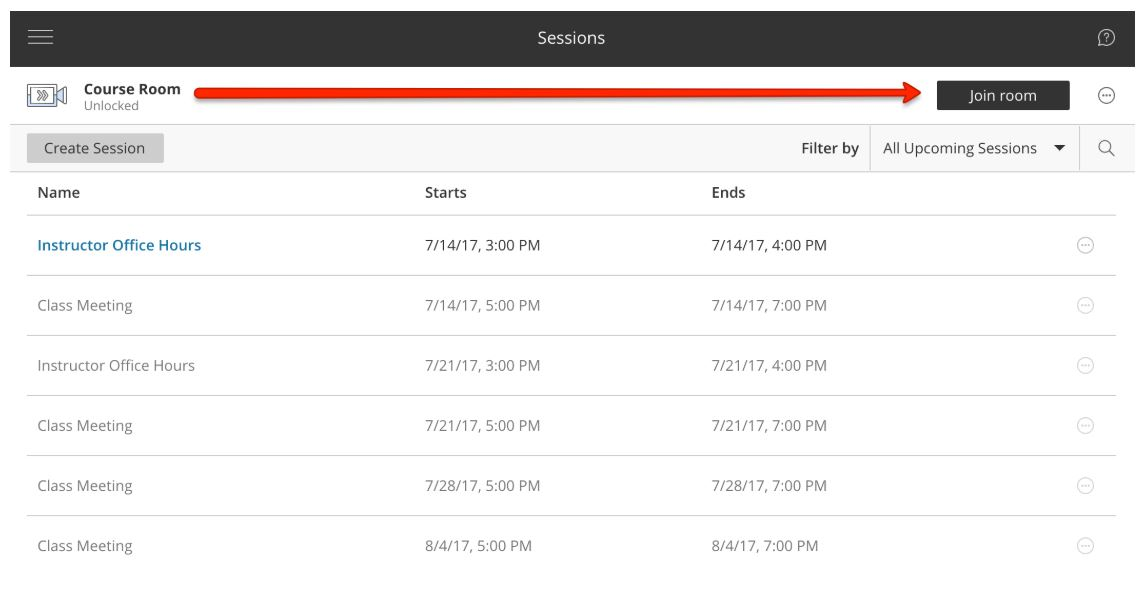 Note that even if you have created specific sessions, the Join Room button always goes to the Course Room session. If you like, you can click on the Course Room settings button ( ... ) and Lock the room. Once the Course Room is locked, you can go to the settings button again to unlock it.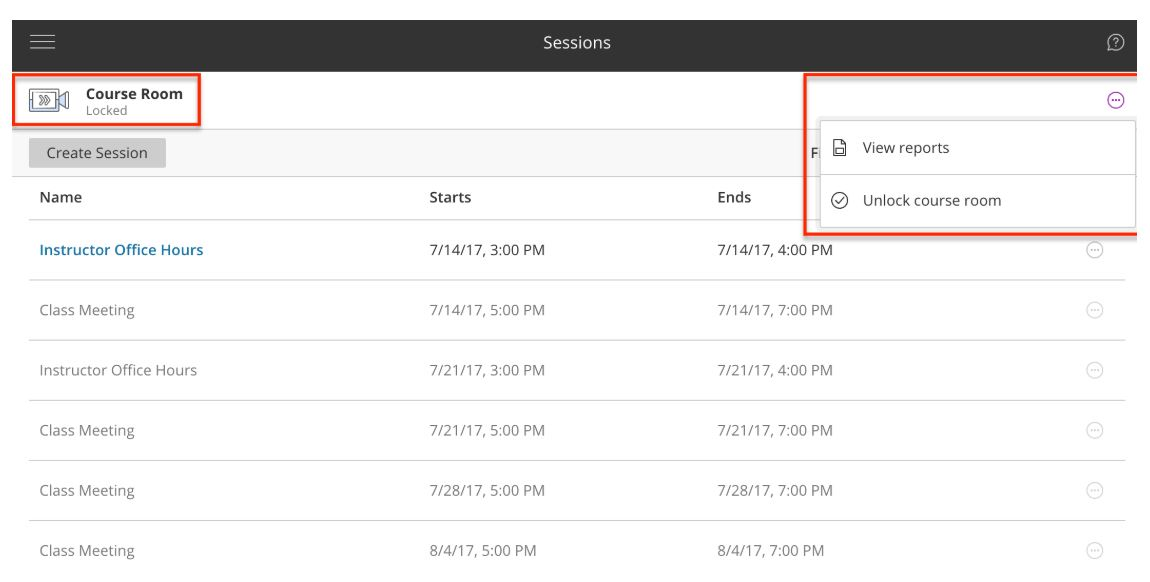 Creating a Session
Click Create Session to set up a new session. Enter a Name for the session and set the Start and End time. Check No end (open session) to always keep the session open or Repeat session to set up a repeating schedule for the session. You can set the Early Entry time for participants to join the session up to an hour before the start time.
Click Session Settings to show additional settings for the session. Once you are done, click Save.
Viewing Recordings
Click the Menu button and choose Recordings to view any session recordings you have made.

Click a recording in the list and choose Watch Now to view the recording.

Click the Menu (...) icon to see additional options for the recording. If you checked Allow recording downloads in the session settings you can download the recording by clicking Download.

Other Support Resources